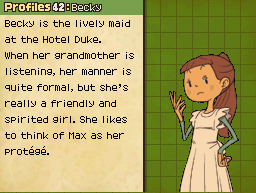 Becky is the maid at the Hotel in Future London. Margaret, the hotel manager, is her grandmother. When Layton and the others have visited the hotel, Becky has proved helpful to them by giving them locations and other helpful information. She also has befriended many in the area as well, such as Max, who calls her "Bossy Becky". Also, she gives Luke one of the many Toy Car tracks.
Becky gives Layton and his friends a couple of puzzles during their investigation in Future London. The first puzzle she has to offer is "Find the Station". The second is "A Pricey Pen".
Ad blocker interference detected!
Wikia is a free-to-use site that makes money from advertising. We have a modified experience for viewers using ad blockers

Wikia is not accessible if you've made further modifications. Remove the custom ad blocker rule(s) and the page will load as expected.