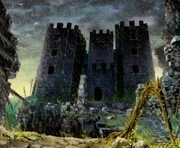 Forbodium Castle
is a location in the game
Layton Brothers: Mystery Room
. It is referenced to often in the game, and is where
File No. 008
and
File No. 009
is set.
Structure
Edit
The structure of Forbodium Castle is divided into four parts; three towers referenced to simply as the West, Central and East Tower respectively, and a single passageway that runs directly underneath the West Tower and serves as the main entry-point to the castle. There is a room along the passageway, which can be locked remotely; the room also has a secret passageway that leads back to the main passageway.
At the end of File No. 005, Alfendi, as 'Potty Prof', refers to a 'Radmond Castle' when speaking to Justin Lawson. This was an error on the translators' side, because in the original version, the name was 'ラドモンド城', read as 'Radomondo-jō'. This can be translated as 'Radmond Castle', but in the English version is actually Forbodium Castle.
Ad blocker interference detected!
Wikia is a free-to-use site that makes money from advertising. We have a modified experience for viewers using ad blockers

Wikia is not accessible if you've made further modifications. Remove the custom ad blocker rule(s) and the page will load as expected.