Granwyrm is listed in the Grand Grimoire as one of the possible spells usable by witches in Labyrinthia. It is described as spell that summons a great fire dragon for the caster to command. This spell was said to have been responsible for the "Legendary Fire" that previously destroyed Labyrinthia.

---
Although the "dragon" that caused the Legendary Fire was a hallucination, an actual dragon of flames was visible for the second casting of Granwyrm that supposedly killed the Storyteller. It is unknown how the Shades carried out this "spell".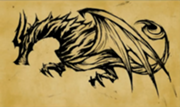 Ad blocker interference detected!
Wikia is a free-to-use site that makes money from advertising. We have a modified experience for viewers using ad blockers

Wikia is not accessible if you've made further modifications. Remove the custom ad blocker rule(s) and the page will load as expected.