Not to be confused with Puzzle:The Secret Message
A Secret Message
is a puzzle in
Professor Layton and the Last Specter
. The puzzle must be solved in order to progress the story.
Puzzle
"Hershel, my dear old friend, I must
earnestly seek your help again. Our
little town is in the most extraordinary
predicament. At night, a mysterious giant
shrouded in fog has been laying waste to
our homes. I am convinced you can help
stop this madness. Please come soon!

Regards, Clark"
Hints



Click a Tab to reveal the Hint.
Solution
Incorrect
Too bad!
Pay attention to the wording, and try reading it again.
Correct
Correct!
The secret message in the letter was "Help SOS."
What is going on here?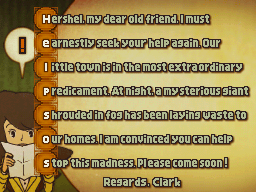 A big thanks to http://professorlayton4walkthrough.blogspot.com
Ad blocker interference detected!
Wikia is a free-to-use site that makes money from advertising. We have a modified experience for viewers using ad blockers

Wikia is not accessible if you've made further modifications. Remove the custom ad blocker rule(s) and the page will load as expected.