Bumper Perspective
is a puzzle in
Professor Layton and the Miracle Mask
.
Puzzle
The photograph shown above was taken while a group of friends were driving bumper cars.
The person who took the photo was driving a white bumper car and she was facing forwards.
Where was she sitting when she took the photo? Circle the correct white bumper car.
Hints



Click a Tab to reveal the Hint.
Solution
Incorrect
Too bad.
Start off by looking for a situation in the bumper-car arena that matches the one shown in the photo.
Correct
Correct!
It was the bumper car circled above.
Not a bad photo, eh? Now to decide where it goes on the wall.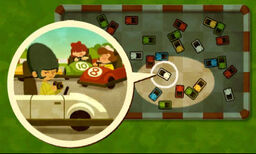 A big thanks to http://www.youtube.com/user/LaytonKyouju
Ad blocker interference detected!
Wikia is a free-to-use site that makes money from advertising. We have a modified experience for viewers using ad blockers

Wikia is not accessible if you've made further modifications. Remove the custom ad blocker rule(s) and the page will load as expected.