Bus Scheduling
is a puzzle in
Professor Layton and the Unwound Future
.
Puzzle
It takes you one hour to get to the office by bus. Your work takes two hours to complete, after which you catch the bus home.
Based on the departure times listed below, which bus, A,B,C,D, or E, should you take to work in order to minimize the wait for a ride home?
Note: The departure times for the buses home are listed to the right.
Hints



Click a Tab to reveal the Hint.
Solution
Incorrect
Too bad!
Maybe making some notes on the bus timetable will help you work it out.
Correct
Righty-o!
Taking bus E to work at midnight will result in the shortest wait for a ride home. Your bus will leave home at 5:00am.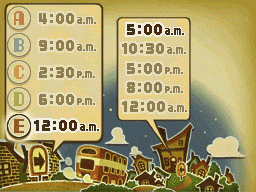 A big thanks to http://professorlayton3walkthrough.blogspot.com
Ad blocker interference detected!
Wikia is a free-to-use site that makes money from advertising. We have a modified experience for viewers using ad blockers

Wikia is not accessible if you've made further modifications. Remove the custom ad blocker rule(s) and the page will load as expected.