Crawling the Web
is a puzzle in
Professor Layton and the Last Specter
.
Puzzle
A spider made a very intricate web.
When its prey gets stuck at A, the spider starts from the center and take thread 2 or 5 to get it. To get to the prey at B, the spider uses thread 1 or 2, starting from the center.
The spider has a simple rule. Following this rule and starting from the center, which two threads could the spider take to get to C?
Hints



Click a Tab to reveal the Hint.
Solution
Incorrect
Too bad!
The spider can start from two separate threads.
Correct
Prey-fect!
From wherever the spider starts, it always travels outward and turns whenever it meets another connecting threads.
Oh, goody! It's lunchtime!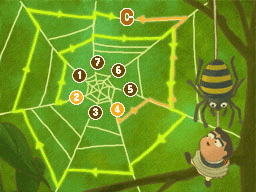 A big thanks to http://professorlayton4walkthrough.blogspot.com