Five-Card Shuffle
is a puzzle in
Professor Layton and the Curious Village
.
Puzzle
Three of the four images shown below are exactly the same picture rotated in a variety of ways. Can you find the odd one out?
Hints



Click a Tab to reveal the Hint.
Solution
Incorrect
Nope!
Look at the problem again.
Correct
Good job!
This puzzle is fairly straightforward, but catching the subtle difference in the picture can take a while.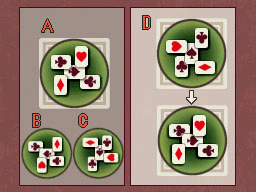 A big thanks to http://professorlaytonwalkthrough.blogspot.com
Ad blocker interference detected!
Wikia is a free-to-use site that makes money from advertising. We have a modified experience for viewers using ad blockers

Wikia is not accessible if you've made further modifications. Remove the custom ad blocker rule(s) and the page will load as expected.