Mopping Up
is a puzzle in
Professor Layton and the Last Specter
.
Puzzle
These poor-quality mops take two days to dry after they've been used, and the handle completely breaks after just three uses!
What is the minimum number of mops that you would need to clean every day for a 30-day month?
Hints



Click a Tab to reveal the Hint.
Solution
Incorrect
Too bad!
Try to be as economic with your mops as possible.
Correct
You mopped this puzzle up!
You would need 10 mops. The trick is to use your fourth mop frugally! Three mops are used up every nine days. The fourth mop can be used once on the 10th day. Follow the same pattern for the next 10 days, using the fourth mop again once. By the 30th day, you will have used only 10 mops.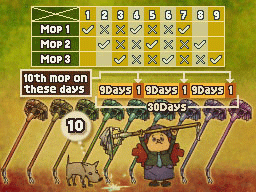 A big thanks to http://professorlayton4walkthrough.blogspot.com
Ad blocker interference detected!
Wikia is a free-to-use site that makes money from advertising. We have a modified experience for viewers using ad blockers

Wikia is not accessible if you've made further modifications. Remove the custom ad blocker rule(s) and the page will load as expected.