Party Crasher
(
A Party Crasher
in the UK version) is a puzzle in
Professor Layton and the Unwound Future
. The puzzle must be solved in order to progress the story.
Puzzle
Theres an uninvited guest at the event, but the guard has received a few clues as to his whereabouts.
His table is next to one with a red flower. His tablecloth is a different color than any next to it. Oh, and his table isn't decorated with a yellow flower.
"Next to" means tables connected by dotted lines. Take the guard to the intruder's table.
Hints



Click a Tab to reveal the Hint.
Solution
Incorrect
Too bad!
Take another look at the clues the guard gave you. The answer is probably simpler than you think.
Correct
Good work!
You've found the party crasher.
Now its time to let the guard do his job.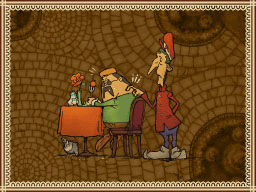 A big thanks to http://professorlayton3walkthrough.blogspot.com
Ad blocker interference detected!
Wikia is a free-to-use site that makes money from advertising. We have a modified experience for viewers using ad blockers

Wikia is not accessible if you've made further modifications. Remove the custom ad blocker rule(s) and the page will load as expected.