Pattern Matching
is a puzzle in
Professor Layton and the Curious Village
.
Puzzle
US Version
The large shape below is made up of a pattern. A section of the shape has been removed. Of the options A, B, C, and D, which one should you insert into the large shape to complete the pattern?
UK Version
Part of the patterned shape below is missing. Which of the pieces A, B, C and D will complete the pattern when inserted into the gap?
Hints



Click a Tab to reveal the Hint.
Solution
Incorrect
Try again!
Study that pattern carefully.
Correct
Excellent!
It's really just a matter of finding the right matching pattern, but staring at all those different pieces and trying to find one that fits is more complex than one would think.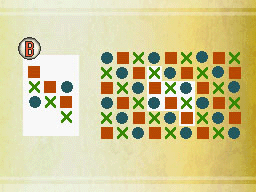 A big thanks to http://professorlaytonwalkthrough.blogspot.com
Ad blocker interference detected!
Wikia is a free-to-use site that makes money from advertising. We have a modified experience for viewers using ad blockers

Wikia is not accessible if you've made further modifications. Remove the custom ad blocker rule(s) and the page will load as expected.