Stumble's Banners
is a puzzle in
Professor Layton and the Miracle Mask
.
Puzzle
Stumble is cheerily putting up posters in the plaza one evening, when all of a sudden, he gets a terrible fright and stumbles up which poster is which.
Can you help him find the poster that matches the one on the pole on the top screen?
Touch posters on the Touch Screen to have a closer look. You can rotate the poster on the pole by sliding the hand left and right.
Hints



Click a Tab to reveal the Hint.
Solution
Incorrect
Too bad.
Compare each of the posters very closely.
Correct
The correct answer is poster B!
In A, the tail of the large clown balloon is different, and in C the trumpeter's hat is a different shape.
But really, with differences that small, would anyone even notice if Stumble made a mistake?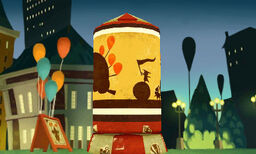 A big thanks to http://www.youtube.com/user/LaytonKyouju
Ad blocker interference detected!
Wikia is a free-to-use site that makes money from advertising. We have a modified experience for viewers using ad blockers

Wikia is not accessible if you've made further modifications. Remove the custom ad blocker rule(s) and the page will load as expected.