[UF130] The Final Puzzle
Talk

0
1,634pages on
this wiki
The Final Puzzle



Game

Number

130

Location

Solved by

Type

Obligatory

Yes

Picarats

30

Reward

None
The Final Puzzle
is a puzzle in
Professor Layton and the Unwound Future
.
"Look! I made myself a wax stamp! It's like the one you used to seal your important envelopes and documents, except it looks like my hat and the L stands for Luke!
I've already used it once. See? Isn't the blue wax neat? If matches my hat!
Anyway, here's my puzzle of the four examples, A, B, C, and D, which one is my actual stamp? Circle your answer."



Click a Tab to reveal the Hint.
Lovely!
The challenge is figuring out the differences between the various hat shapes and realizing that the L on the actual stamp will be backward.
It's neat that the L works for both Luke and Layton. Cool, huh?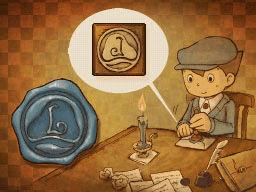 A big thanks to http://professorlayton3walkthrough.blogspot.com