The Specter's Path
(
The Spectre's Path
in the UK version) is a puzzle in
Professor Layton and the Last Specter
. The puzzle must be solved in order to progress the story.
Puzzle
Traps were set at every intersection in town. That night, every time the specter passed an intersection, that spot was marked with a red X.
Knowing that the specter never hits the same area twice, Luke had a revelation.
"I've got it! I know which way the specter went!"
Which way, A to H, does Luke think the specter went? Circle the letter.
Hints



Click a Tab to reveal the Hint.
Solution
Incorrect
Too bad!
Try using the Memo function to follow every trap sprung by the specter.
Correct
That's the way!
It was E.
Now we know which way the specter went!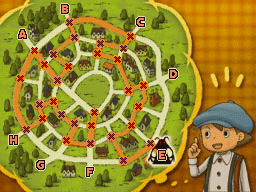 A big thanks to http://professorlayton4walkthrough.blogspot.com
Ad blocker interference detected!
Wikia is a free-to-use site that makes money from advertising. We have a modified experience for viewers using ad blockers

Wikia is not accessible if you've made further modifications. Remove the custom ad blocker rule(s) and the page will load as expected.