The Timepiece
is a puzzle in
Professor Layton and the Unwound Future
. The puzzle must be solved in order to progress the story.
Puzzle
You've arrived at the clock shop, but there doesn't seem to be a way to open the door.
While you're looking for the doorknob, a voice from inside calls out,
"Press the panel with the timepiece."
What panel do you press? Remember, you can only press one.
Hints



Click a Tab to reveal the Hint.
Solution
Incorrect
Too bad!
Remember, there are many kinds of timepieces.
Correct
Exactly!
If you look closely, you'll see an hourglass on the correct panel.
Now, look--the door is opening!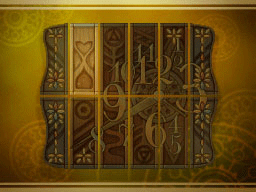 A big thanks to http://professorlayton3walkthrough.blogspot.com
Ad blocker interference detected!
Wikia is a free-to-use site that makes money from advertising. We have a modified experience for viewers using ad blockers

Wikia is not accessible if you've made further modifications. Remove the custom ad blocker rule(s) and the page will load as expected.