Tricky Tomes
is a puzzle in
Professor Layton and the Last Specter
.
Puzzle
Here is a bookshelf crammed with thick, heavy encyclopedias arranged as shown. All the books have the same depth, and they fit perfectly onto the shelf.
There is one book that nobody ever takes from the shelf first, no matter who is browsing the shelf. Touch which book that is.
Hints



Click a Tab to reveal the Hint.
Solution
Incorrect
Too bad!
Do you notice anything odd about the bookshelf?
Correct
Nice!
Encyclopedia number 8 is the only book that cannot be taken out first. There is no way to get it out without removing another book first.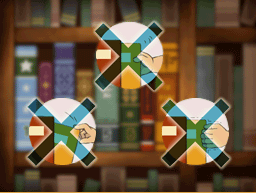 A big thanks to http://professorlayton4walkthrough.blogspot.com
Ad blocker interference detected!
Wikia is a free-to-use site that makes money from advertising. We have a modified experience for viewers using ad blockers

Wikia is not accessible if you've made further modifications. Remove the custom ad blocker rule(s) and the page will load as expected.