Window Design
is a puzzle in
Professor Layton and the Last Specter
.
Puzzle
A man wants to decorate his window so that people can't see into it so easily.
Help him out by decorating the window with these transparent apple stickers, making sure that every part of the window is covered.
The apple stickers may be oriented in any direction and can even be flipped, buy you must make sure that every frame has one apple and no stickers extend past the edges of the window.
Hints



Click a Tab to reveal the Hint.
Solution
Correct
How rosy!
He's sure to be pleased with your hard work.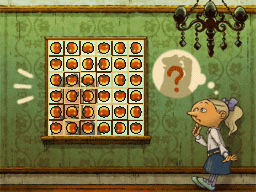 A big thanks to http://professorlayton4walkthrough.blogspot.com