Vera Wipovsky is a hotel cleaner who had discovered the body of Sandy Aldwich. Due to this, she was a suspect herself. Wipovsky was a mother of ten children and had a husband whom she worried would cheat on her while working away. She was known to be an absolute rock. She is 51 years old.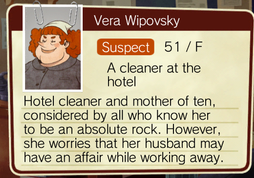 ---
During Sandy Aldwich's vacation with Bosco Felps at the five-star hotel Wipovsky worked at, she was murdered out on the terrace where she received her sandwich from the bellboy Zach Carrière. Felps failed to find her when he entered the room due to her body out at the terrace being obscured by the curtains being closed. When he left the room, he left a 'Please make up my room' sign on the door handle.
Wipovsky saw the sign and entered the room using her master key. She started to clean the room as usual but noticed the closed curtains and drew them back. Wipovsky noticed Aldwich was outside on the terrace and thought she simply fell asleep due to her being slumpd over the table. She called out to Aldwich but when there was no response from her, Wipovsky went to the terrace and to her surprise, Aldwich had been strangled to death, with her hand in the sandwich she ordered.
Wipovsky quickly called the police about the murder and later stated that she only went into the room as part of her cleaning duties and could enter the room using her master key since all the doors locked automatically. At some point, she chatted with Carrière about the sandwich about the hand in the sandwich. It was later found out that the scene Wipovsky saw was because of Carrière murdering her and placed her hand in the sandwich to disguise the scent of his aftershave and to create a fake dying message as a diversion.
Ad blocker interference detected!
Wikia is a free-to-use site that makes money from advertising. We have a modified experience for viewers using ad blockers

Wikia is not accessible if you've made further modifications. Remove the custom ad blocker rule(s) and the page will load as expected.